Advertorial
monday 19 aug 2013/ SHOES ARE BORING WEAR SNEAKERS!
August 19, 2013
HELLO EVERYBODEE!!!
THIS BRAND THAT YOU ARE ABOUT TO SEE, NEEDS ABSOLUTELY NO INTRODUCTION!! ITS NONE OTHER THAN CONVERSE!
Its quite hard to not know about converse, recently i got to work with converse, was given a choice of shoes and apparel! Scroll down to see what i have picked ;)
(Here's a little introduction to Converse's new slogan)
Outlaw sneaker brand Converse started the year with a campaign built around a slogan 'Shoes Are Boring. Wear Sneakers'. Audacious, rebellious and non-apologetic. This is how Converse claims the word 'sneakers' and own it. It also went a mile further to defiantly disassociate and differentiate itself from 'shoes'. Simply put, Converse equals sneakers and vice versa. Anything else you wear on your feet falls in to the 'shoes' category and that's just……not cool. Or in Converse's term, boring~
1. white slim cut sneakers
love this pair of sneakers as its a slim cut version not the usual cut
2. Denim female slim cut shirt
you can't go wrong with denim everrrrr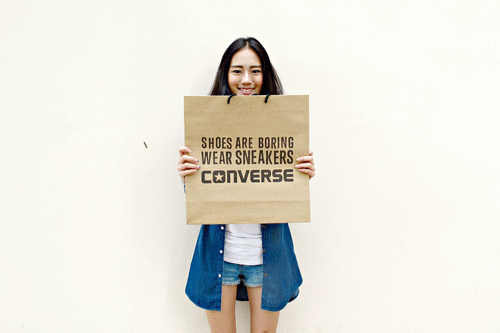 GET YOUR SNEAKERS NOW!
once again thank you converse for the collaboration
:)